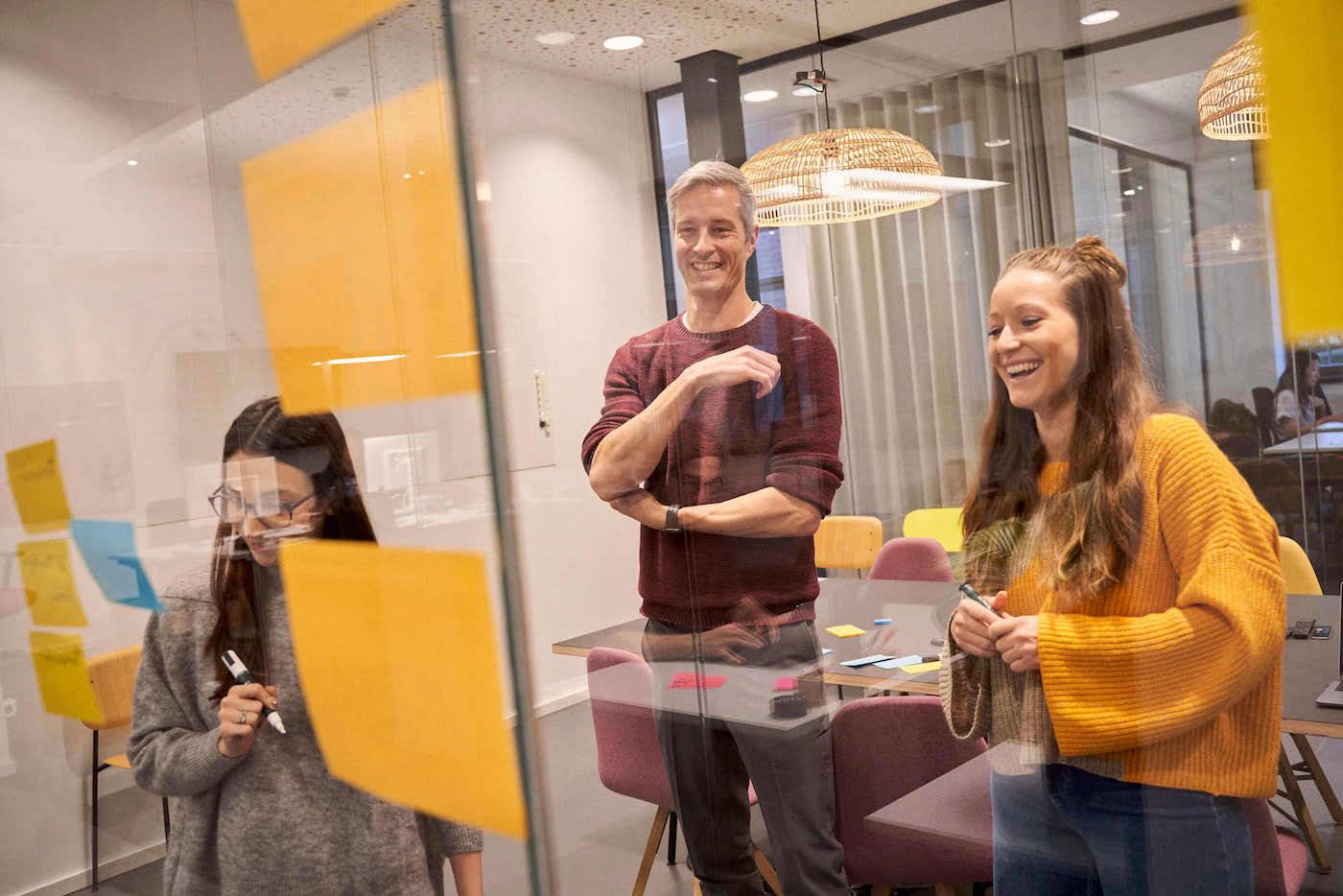 Who is behind the People & Relations Team at MOIA?
We are a colorful and strong team consisting of eleven professionals located in Berlin and Hamburg. We cover various responsibilities with our individual strengths: recruiting, personnel development, organizational development, consulting, moderating, communicating and coaching.
Knowledge is transparent for us, and we make a point to share information and learn from each other

We know and express our strengths within the team and promote each other's development

Although we are not developers, we are passionate about the tech environment and culture and enjoy working with our colleagues from various technical departments

No two days are alike: we love the dynamics, the varied topics and numerous design options that each day brings
What

you'll

d

o
Support our recruiters along the entire recruiting process (e.g., first point of contact, applicant management, preparation of employment contracts, …)

Gain insights into our data-driven operational tasks (e.g., support with salary processes, organization of personnel files, documentation of our internal processes, assisting in ad-hoc tasks, ...)

Help us to structure and keep track of all our employee data to stay on top of the things, such as Newbies, Leavers, Statistics etc.
Support us with organizing different events (e.g., workshops for our student & intern community)
Opportunities to learn
Learn about all our various activities in the People & Relations team and support in different projects (e.g., Future Work/Future Office, Diversity, Employer Branding, Recruiting, Operations)

Help us to improve and reflect on our processes, brainstorm together with others and bring in your own ideas

Personal development through the opportunity to think outside the box and explore different areas and tasks within MOIA

Learn how to work in an agile team environment and within a tech company
What will help you to fulfill this role
You have a supportive mindset and like to get involved with different topics and projects

You like to communicate and be in touch with different people

You love to organize and prioritize your daily work by yourself

You are fluent in English and German
Ideally, you are available in full-time for 4 to 6 months
We encourage you to apply even if your profile does not meet all the requirements for the role. We embrace individual growth at MOIA.
Student Community
We are diverse group of mostly students, who are curious, motivated and always eager to learn new things. We are a community of approx.15 people, living in Hamburg and Berlin. We get together once per quarter to discuss different topics like sharing projects from our daily work or just for a coffee chat.
As a Working Student, you will be working on challenging projects with high impact. You work together with your team, who will help you to identify project goals, while also inspiring you, mentoring you and supporting your professional development.
We are looking forward to welcome you in our community.
In case you have questions regarding your application, you can approach the recruiter Kim or the hiring manager Steffi directly.
Our Benefits in a nutshell
Flexible working hours on the basis of 20h/week

Exciting insights into a dynamic and fast- growing company

Growth & learning opportunities from a diverse skilled-team

Opportunity to take over responsibility and work on projects

Mental health trainings and consultation

Macbook & iPhone

Discount on MOIA rides
Be who you are!
We are a member of Charta der Vielfalt and are actively working on creating a workplace that promotes and values diversity in age, gender identity, race, sexual orientation, physical or cognitive ability, and ethnicity. At MOIA we embrace a culture, where people feel accepted, respected, valued, appreciated, and included.
We offer unconscious bias training regularly for all our employees. Also, we are working on making our hiring process as inclusive as possible, such as ensuring a diverse hiring panel. To reinforce an unbiased screening process, we kindly ask you not to include any photograph in your application.
Our Future Work model
Since we love to collaborate, it is clear to us that we don't want to become a fully remote company, but we also don't need to spend every day of the week in the office to do a great job.
Our current hybrid work approach focuses on adapting to different needs, including increased flexibility that works best for the teams and the individuals with as much self-determination as possible.
Get more insights on how we work on our blog or follow us on Twitter to find out more about our hiring process.
Who we are
At MOIA GmbH, our team of more than 250 employees develops the technical products for our on-demand ridepooling service in the form of an end-to-end integrated product, from hub, fleet, and driver management to passenger and B2B solutions. At the same time, we want to make the vision of an autonomously driving mobility service a reality and plan to bring the first autonomous MOIA vehicle to the streets by 2025.
At our offices in Berlin and Hamburg, international teams of developers, engineers, designers, and strategists work on a shared mission. As a tech company, more than half of our employees are developers. We pursue value-driven development based on our product values of comfort, reliability, safety, and privacy.
We aspire to be a leading company in the fields of rethinking mobility and improving urban transportation by making it more relaxed, more affordable and an entirely positive experience for everyone.
MOIA gets things moving. On a shared journey – towards an easier, smarter, and more meaningful future.